About ordering online
Since Affianced Fine Jewellery creates personalised, uniquely crafted jewellery, the traditional webshop model is not compatible with all of our pieces.
To make webshop orders possible in the fullest possible way for our clients we would like to walk you through its steps.
Ordering a piece of jewellery is usually happening through e-mail or over the phone, although you can require a video conference meeting with us, but you need to make an appointment for that beforehand.
1. Picking a piece of jewellery, asking for a quotation
If you wish to order a piece which is not available from our webshop directly, you have the possibility to order online or to discuss the details with our colleagues.
If you wish to change something about a piece of jewellery on our website you can do that also. Please, contact us via e-mail and we will send you a design with the changes and send you a quotation as well.
2. Ordering the jewellery
If the quote is acceptable and you wish to order one of our jewels, you can inform us by answering our e-mail or giving us a phone call.
3. Specifying the order
Later on, our colleague will send you the e-mail with the details and the technical parameters of the deposit payment.
4. Defining the ring sizes
Defining the correct ring sizes is one of the most difficult tasks, if you do not have the opportunity to visit us in person. If so, you should try to go to one of your local jewellery stores and ask for help there, where they can measure your ring size professionally. If this is not possible, order ring size measurement line from us. You can find a detailed explanation on how to use it on our website; also you can consult our colleagues to find the right size.
In case we send you the measurement line, here in Hungary, it has a 5000HUF fee, with free shipping. (In case we need to send it abroad, we need to know the exact location before calculating the price of shipping) If you return the measuring rings to us, we refund its price.
Important note: We can only guarantee the ring's size, if you defined your size with our measuring tools. To validate the guarantee, please keep the invoice.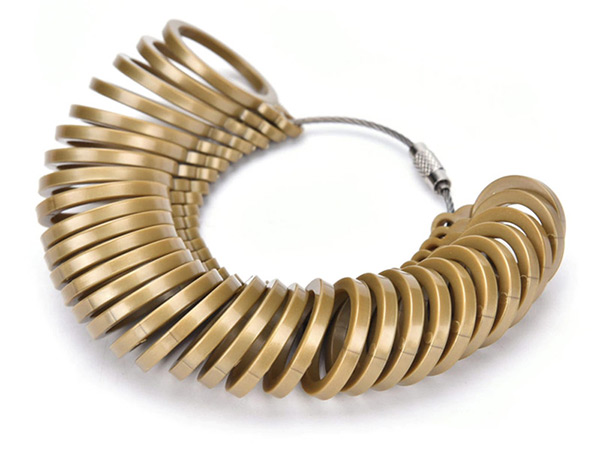 5. Starting the process of ring making
We start the process of manufacturing you ring after receiving the deposit payment and the exact ring size. We determine the current deadline for making the ring which could be between 3 to 8 weeks depending on the complexity of the jewel, but we always discuss the details with our customers.
6. Delivering the manufactured piece
If we post the jewel here in Hungary, it is free of charge. If we ship the jewel abroad, contact us to discuss the details.
Designing and ordering unique jewels
We try to satisfy needs in connection with unique jewellery without meeting in person, only discussing details online. If you found a piece on our website which only resembles the kind of jewellery that you want, or you wish to change some elements, or you have an entirely unique idea, we have solutions for every scenario.
After collecting information, we show you a drawing or a 3D plan, depending on the style of the jewel. To specify the details, we offer numerous online platforms, naturally, we need you to book an appointment for the meeting.