The silhouettes of the items carry the designs of architectural stonemasonry, furniture and carpentry, and the used ornaments show the rich embroidery of the most popular piece of attire of the new style traditional dresses, the tawdry coat; also, by relation of the technique, the woodworker craftsmanship's values.
In our works we mostly use the tulip motive. In shape, and in surface decoration, it appears regularly on our items. Another commonly used pattern is the heart, which, along with the tulip, represents love in Hungarian traditional art. The collection's main metal is gold.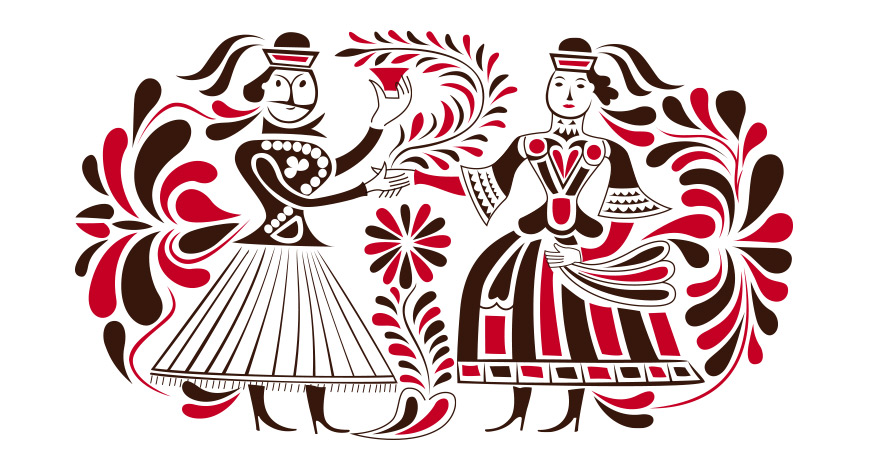 Among noble metals, gold is the best to use when we want to make picturesque, plastic shapes. 
Our items are made with two variations of gold alloy, white and red; and also, given the symbolic value of marital jewellery, colourless or brown gemstones.
These combinations of materials give an old, archaic character to the collection. While designing this family of jewels our consideration was to use old, traditional artificer techniques, combined with modern solutions. The design of the forms was sketched only by hand then we used silver trial pieces to find out thickness and proportions – sometimes working in separate steps.
Our most commonly used technique is shaping the moulds out of wax. The best thing about wax is that it could be used for casting purposes right away. The final shaping of the forms is carried out by traditional handcrafting methods. 
Our items are of relatively difficult shapes, most jewels in this collection are made up of multiple parts; putting them together demands accurate and high level internship. Making them this way also allows us the use of multiple coloured alloys within one item. After making the forms without flaws comes the decoration, the engraving and lastly, socketing the precious stones.