Car Race – gold cuff
Unique monogrammed white gold cufflink decorated with black ceramic insert.
Guide price in total:
939 977

Ft
It is in these categories
Specification of jewellery and ordering process
Product Description

Sizes

Packaging

Process of ordering
Product Description

| Used precious metal | |
| --- | --- |
| Gold 14K | 19.0 g |
| Parameters | |
| --- | --- |
| Width | 0 mm |
| Thickness | 0 mm |
| Length | 0 mm |
The jewelry you can see here, is made exclusively for you according to your order.
We make the ordered jewelry from 14K gold alloys, because they are harder and more wear-resistant than 18K alloys, so the handmade decorative motifs fade less over the years.
Our jewelry is made individually, so small differences may occur compared to the photos.
Gemstones used in jewelry:

• Diamonds: high quality vs weselton or fancy color, conflict free diamonds, brilliants.
For diamonds over 0.3 ct, we provide an IGI or GIA international lab test document.
You can read more about diamonds here.
• Moissanite gemstones: our moissanite gemstones meet the highest quality standards and are excellently polished. You can read more about moissanite here.
• Precious stones: The precious stones we use are high-quality, verified original precious stones, which are individually selected for the jewelry in each case, so there may be minimal color shade differences compared to the jewelry photos. Ask our colleagues about this. You can read about the types of gemstones here.
In the case of a personal order, it is possible to have the given piece of jewelry made with any modifications, in this case, please contact us at one of our contacts.
Sizes

Determining correct ring sizes
When buying rings online, finding the right size is the biggest challenge. Since Affianced Jewelry makes the jewelry ordered online individually, it is therefore crucial to determine the dimensions precisely.
– As a first step, order a professional ring measuring set from our jewelry store for HUF 5,000, which we will mail to you as soon as possible after purchase (1-2 working days), with which you can measure your exact finger size by following our guide. You can order the ring from our webshop by choosing the sizes obtained in this way. If you return the ring measuring set to our address, we will return the HUF 5,000 purchase price to the specified account number, if you bring it to us personally, we will return the purchase price in cash.
– Important to know: we only guarantee the size of our rings if you have ordered the ring measuring set from us. To validate the size guarantee, keep your ring measuring set invoice, as you can use our free size adjustment service.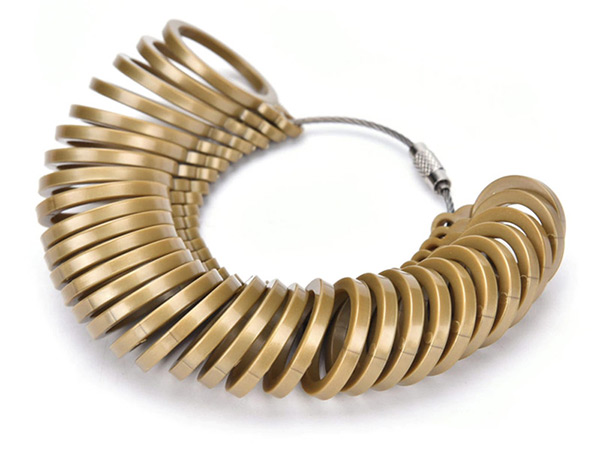 – You can find our exact guide on using the measuring line here.
The process of ordering jewelry online
Personal order
If you order the rings in person, you don't have to do anything else, just make an appointment with our colleagues at one of our contacts and visit us in our jewelry salon in Budapest, where, in addition to discussing many other details, our colleagues will take the exact finger sizes.
Necklace lengths for average body types: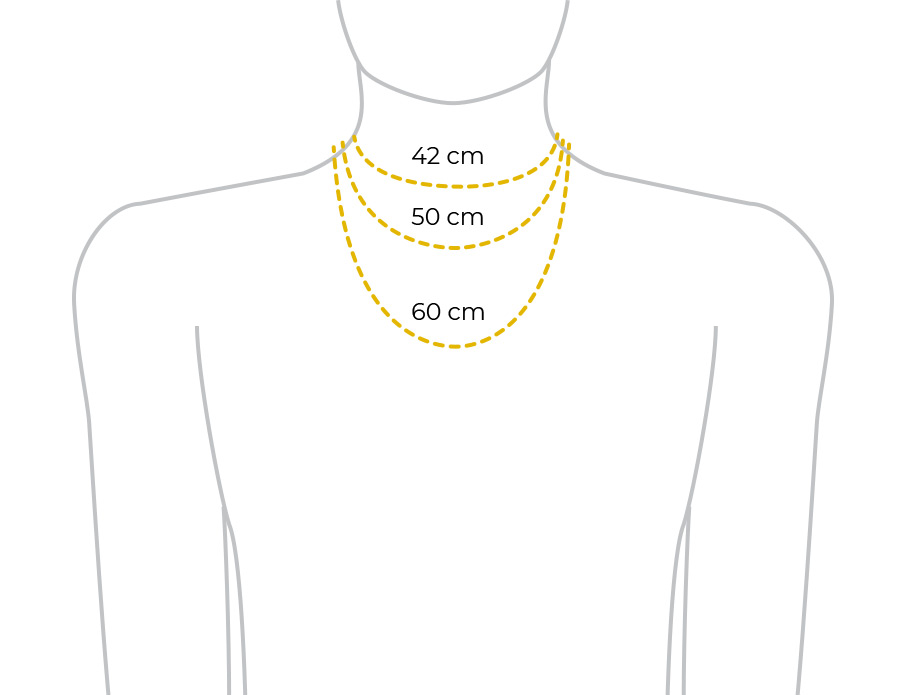 Packaging

Packaging of the jewelry
We deliver our jewelry in exclusive packaging suitable for a valuable gift, in a beautiful silk-coated, padded jewelry box with a warranty card, certificate, decorative bag and a small jewelry-holding silk bag.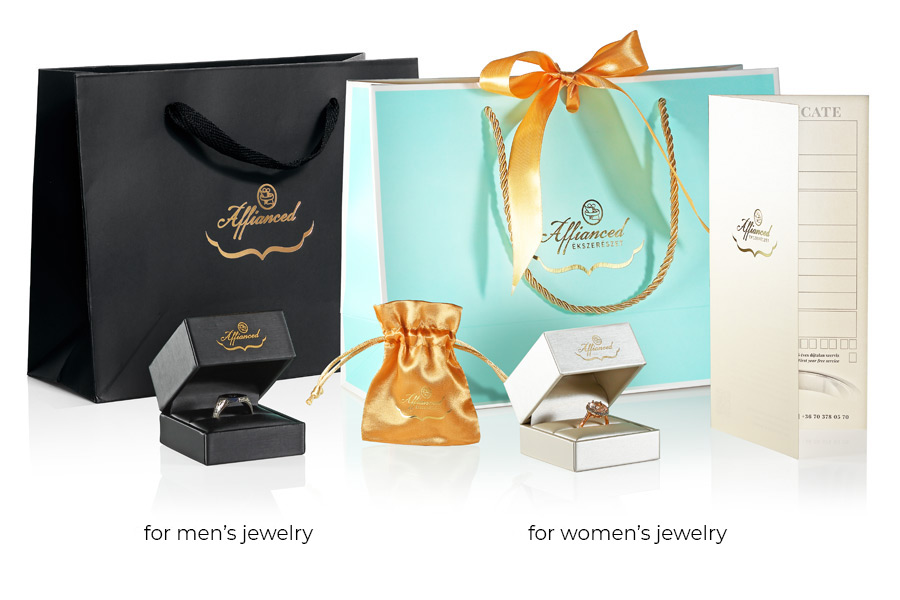 Process of ordering

Webshop purchase
Shopping in the webshop, similar to the operation of other online stores, is done by placing the product in the basket, but in this case too, we make the jewelry individually, taking into account the dimensions you specify and the text and style of the internal engraving. Through our online store, you can only purchase products available in the online store as mentioned above.
It is important to know that the ordered jewelry is made individually based on the ordered sizes, color and gemstone variations, which takes 4-8 weeks depending on the jewelry. We will clarify the preparation time with you in a reply e-mail after the order.
To order products that are not available from the webshop, please contact us at one of our contacts.
You can only buy from our webshop from the countries of the European Union. If you want to order jewelry from outside the EU, please contact us.
Personal order
You have the option to personally order all the jewelry you see on our website, and in this case, every single parameter of the jewelry: width, color and fineness of the gold alloys used, as well as the type and arrangement of the precious stones can be customized according to your taste.
Make an appointment with our colleagues for a personal consultation at one of our contact numbers.
Online order
As with the personal order, it is also possible to customize every detail of the jewelry. For your convenience, we also provide an online consultation, which also requires logging in.